Metalized Thermal Laminating Film Silver 24micron
Metalized Thermal Laminating Film comes out as the aluminum paper when it laminates with paper.
It is used to laminate on the daily consumable packing box, such as the box of grocery,medicine, wine etc.
Our Metalized Thermal Laminating Film has Silver,Gold and other colors (available at both gloss and matt),
mainly at 24micron(12MPET+12EVA) and 28micron (18MBOPP+10EVA).
It serves strong adhesion, perfect surface tension and nice rewinding,with one or double sides corona
treatment valued above 42 dyne.
Metalized Lamination Film is applied to Books,Posters,Presentation Folders,Labels,Shopping Bag,POP Signs,Document,Book Covers,ID Cards,License,Passports,Antigraffiti,Boardmaking,Write on/wipe off Calendars,Photographs,Albums ect.
Outside coating for wrapping box or bag for food,medicine,cosmetic,gift,liquor etc.
Drawing paper,documents,advertisement,digital printing,show board,etc.
Metalized Thermal Laminating Film (Silver, Gold, other colors)
Specification

BOPP

AFP-L28

AFP-L26

AFP-Y28

AFP-Y26

PET

AFP-L24

Glossy

Glossy

Matte

Matte

Glossy

Thickness

18mic

18mic

18mic

18mic

PET

12mic

EVA

10mic

8mic

10mic

8mic

EVA

12mic

Total

28mic

26mic

28mic

26mic

Total

24mic

Yield

m²/kg

38.256

41.220

39.620

42.808

m²/kg

35.311

kg/m²

0.0261

0.0243

0.0252

0.0234

kg/m²

0.0283

Customized thickness-composition available

Width

200mm-1200mm

Length

2000m-6000m

Thickness Tolerance

+/-1.5mic

Paper Core

1"(25.4mm), 2.25" (57mm), 3"(76mm)

Joint

≤

1

Corona Treatment

double sides

Surface Tension

MBOPP side

≥

40dynes; MPET side

≥

42dyne; EVA side

≥

52dyne

Silver & Gold, other colors available
How to use?
Guide on operation
1. Better to be used by dry/heat laminator.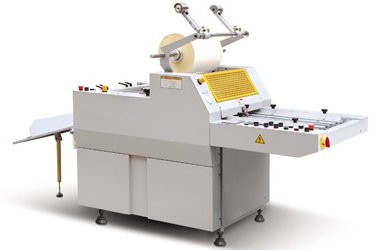 2. Adjust roller pressure and temperature according to different types of paper and ink.
3. When using the film for the first time or changing the usual size, a small trial volume before starting massive lamination is proposed.
4. Normal process temperature is 90C-105C (203F - 221F), roller pressure and temperature vary from different types of paper, ink and machines.
5. Make sure the ink is dry before laminating. It will delaminate when the paper contains too much moisture or powder.
6. Make sure to put the material in place with low temperature and dry.
7. The following situation will affect the final quality of the film during lamination.
A. Using metal ink
B. Ink containing too much wax, dried oil, adhesive, silicon additive and so on.
C. Much too thick ink
D. Ink completely undried yet.
E. Much too humid paper sheet
F. Too much powder on the surface